MSMEs in Africa, Asia and Latin America become certified to sustainability standards
More than 104 MSMEs in the agri-food processing sectors ranging from tea and coffee to cocoa and fruit processing.
Since 2019, T4SD's coaching methodology on voluntary sustainability standards (VSS) has been implemented as part of the sustainability related offering of the GreenToCompete Hubs (formerly known as T4SD Hubs) in six countries, namely Ghana, Kenya, Lao PDR, Nepal, Peru and Viet Nam. The coaching methodology aims at preparing MSMEs for the certification process. It comprises two components: 1) training of sustainability experts in each country where the programme is implemented, who are then certified as VSS Coaches and; 2) one-to-one coaching sessions of MSMEs, to produce an implementation plan for sustainable practices and certification against a specific sustainability scheme.
The T4SD's coaching methodology on VSS benefited 104 MSMEs in the agri-food processing sectors ranging from tea and coffee to cocoa and fruit processing. They all received tailored coaching from experts on VSS and certification, including a gap analysis, cost and benefit analysis of certification against selected sustainability standards that MSMEs are required to comply with to sell to foreign buyers. These include Global G.A.P., EU Organic, Good Manufacturing Practices (GMP) and Fairtrade. Thanks to the coaching, 49 companies have already started the certification process, and eight MSMEs have successfully obtained certificates of compliance. One of the Ghanaian companies Amaati Company Limited, which produces fonio (indigenous African grain rich in nutrients and protein and important source of income for smallholders in West Africa), was certified to EU Organic and has already shipped its first 19 tonnes of organic certified fonio to a buyer in the Netherlands. In addition to the coaching, MSMEs were connected to financiers and obtained funding to partly cover certification costs. Thirteen agri-food MSMEs received financing in form of grants for the certification process by the German Agency for International Cooperation (GIZ) in Ghana, the Business Assistance Facility supported by Australian Aid, Irish Aid, USAID, and the World Bank in Laos and the Innovate Peru Programme to promote Peruvian startups by the Ministry of Production in Peru.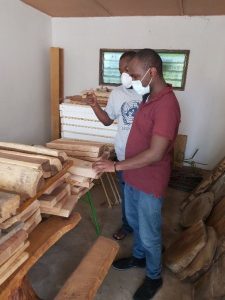 The VSS coaching programme beneficiaries have reported additional benefits that go beyond the compliance with sustainability schemes. For instance, the improvement of their own sustainability codes and internal sustainability and food safety programmes, the alignment of the company's vision with the sustainable development of the region in which they operate, the development of more transparent and target communication materials to showcase their sustainability commitments. One of the beneficiaries in Peru noted: "The VSS Coaching allowed us to understand our management systems and have a clearer focus of our operations from the field to the final client. The methodology was very easy to understand and helped us with the implementation of sustainable practices, as well as for our clients who are seeking more and more transparent communication". In such a globalized market it is important to provide reliability throughout the supply chain and that is what we learned with this tool" (Brucce Echenique, General Manager, Naturkrost Perú SAC).
Photo: ITC coach assessing raw materials of the MH Couture enterprise, Ghana